He's done it again!
A week following his second Challenge Certificate, Laakso Canute ("Ty") was once again on the receiving end of his THIRD Challenge Certificate under judge Stuart Byrne at the Midland Counties Canine Society Championship show. In roughly six weeks time, young Ty has become a U.K. Champion and all three wins were with Best of Breed from Elkhound judges -- a GREAT accomplishment!
CONGRATULATIONS once again, Tanja!!!
A good day on both sides of the pond for descendants of SBIS American Grand/Canadian/UK Ch. Kamgaard Kut Above ("Kobi"). Firstly, reaching this shore in rapid speed was the news of Kobi grandson, Laakso Canute ("Ty") going all the way to SPECIALTY BEST IN SHOW!!! at the Norwegian Elkhound Association of Scotland Championship show from the Limit class under breeder-judge Ian Lees ("Aftonlee"). This was Ty's second Challenge Certificate in a little over a month for this handsome young guy.
Best Puppy In Show here and making her show debut was the Kobi daughter, Skogly's Kamerican Vika ("Vivi").
CONGRATULATIONS to "Ty's" breeder/owner/handler Tanja Mortimer and "Vika's" breeder/owner/handler Annelise Haugstad.
Later in the day came the news from the Norwegian Elkhound Association of Minnesota specialty show about some nice wins for Kobi grandson (via sire Ch. Kamgaard Kut To The Point ("Gibbs") son, Kamgaard Kick Up Your Heels. "Skipper" was Best in Sweepstakes under Mr. James Shea winning himself a big $100 in prize money for this and later in the day was Winners Dog under Norwegian hunter/breeder/judge Mr. Kjell Oybakken who made this show his final judging assignment.
CONGRATULATIONS to owner/handler Mallory Golladay!
A beautiful autumn day for the Garden State Norwegian Elkhound Club Specialty Show and a gratifying one as well. After many months in sick bay with not a good prognosis, we were thrilled to bring back to the ring our glamorous grandma (often called "Glamma" around here!), MRBIS/MSBIS American Grand/Canadian/Bermudian Ch. Kamgaard Kase In Point ("Kasey"). Thanks to the efforts of several veterinarians at Cornell University, Kasey was back in the ring again and having a ball with her handler Sue Ratz.
At a month short of 12 years of age, she showed her socks off and was Best Veteran in Sweepstakes under Mr. John Arvin ("Mystic Isle") and Best of Opposite Sex to Best of Breed in the regular classes under Mrs. Priscilla Gabosch ("Liberty") while her daughter SBIS Grand Ch. Kamgaard Kintyre ("Marnie") was Select Bitch handled by Sally.
A new letter for "Rune" !!!
This week-end at the Delaware Valley German Shepherd Dog Club agility trials, "Rune" performed beautifully despite the high heat and completed her Master Agility Jumper title, so she is now
GCh. Kamgaard Kryptic Kharacter AX MXJ OF
CONGRATULATIONS once again to Cheryl Cramer and "The Tunes"


CONGRATULATIONS to Marge Kabala and Edith Finsaadal as their Kamgaard Klassic Mystic Waters ("Brooke") was Winners Bitch and Best of Opposite Sex to Best of Breed at the Elgin Kennel Club show today under Dr. Edna Martin ("Kaihorn/Full Circle") for her first point. As an added bonus, Marge and Brooke placed 4th in the Owner Handled Hound group under Col. Joe Purkhiser. So now all three from this litter by Ch. Kamgaard Kut To The Point ex Ch.Powdermill Remember Me are off and running or as co-breeder Claudia Holst says "they're no longer pointless!"
A very HAPPY BIRTHDAY goes out today to
MSBIS Ch. Kamgaard Kotton To Me ("Lykke")
who celebrates his SIXTEENTH birthday with co-owner Elaine Oakes
Off early in the morning to a local county fair to watch (of all things) the goat judging (Maggie loves goats!) and have a wander around a true old-fashioned country fair. We both got immersed in the judging process and learned much when at the end of each class and run off, the judge gave excellent critiques with microphone in hand. So wish we could have this type of judging as the "norm" at our US dog shows!
Home to two great messages -- first a phone message from Claudia Holst to say that her Kamgaard Kover Girl ("Khloe") gained a point at the Greater Racine Kennel Club show in Wisconsin under Mr. Garry Newton as Winners Bitch.
The second message was a happy email from Annelise Haugstad of the United Kingdom who attended Norway's famed Elverum show -- generally considered their National Specialty -- with her young Skogley's Kamerican Vika, a daughter of SBIS American Grand/Canadian/UK Ch. Kamgaard Kut Above. "Vika" was entered in the puppy show on the second day of Elverum and was placed 5th out of 11 bitches in the 4-6 month class with a really lovely critique (there's that word again!) from Elkhound specialist Arild Berget.
We commend Annelise on this undertaking back to the mother country and wish her and Vika continued success.
Another member of the Kut To The Point ex Remember Me litter is starting to spread her wings and fly and that is Kamgaard Kover Girl who with co-breeder/owner Claudia Holst went to the Burlington Wisconsin Kennel Club shows and was Winners Bitch and Best of Opposite Sex to Best of Breed under judge Dr. Eric Liebes and 3rd in the Owner-Handled Hound Group under Mr. Raymond Filburn the first day and again Winners Bitch and Best of Opposite Sex to Best of Breed the next day under Mr. Filburn.
Keep up the good work "Khloe" and Claudia!
Always ready for a party, Kamgaard Northern Silver Spirit ("Koda") is once again celebrating Canada Day.
Happy holiday to all our Northern friends!!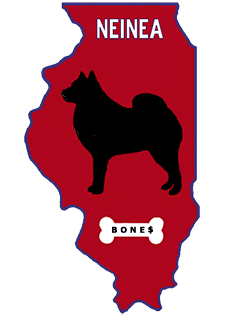 Lots of good doings in Chicago this week-end at the Northeastern Illinois Norwegian Elkhound Association specialties. On Saturday under judge Vincent Indeglia, Winners Dog went to puppy Kamgaard Kick Up Your Heels RATN ("Skipper") owner-handled by Mallory Golladay. The Select Dog award went to SBIS RATCHX GCh. Kamgaard Kodak Moment CD TKI CGCA ("Jack") owner-handled by Marlene Schlichtig.
On Sunday, Best in Sweepstakes was claimed by aforementioned Kamgaard Kick Up Your Heels RATN and judge for this event was Ms. Caitlin Browney. "Skipper" also took home the Reserve Winners Dog rosette under Mrs. Shilon Bedford.
HUGE CONGRATULATIONS for these wins and also to our "cousin" GCh. Solegia Sangrud Heaven's Light Leo for BEST OF BREED beautifully handled by Jaime Simon. New title for you!!!
Some happy news from across the pond today in that our SBIS American Grand/Canadian/UK Champion Kamgaard Kut Above was Best Dog, Best Veteran Dog and Best of Opposite Sex to Best of Breed at the Blackpool and District Canine Society Championship show under judge Arne Foss from Norway. Just a few days short of "Kobi's" eleventh birthday, the judge gave him high praise for his conformation and excellent condition for his age.
Thank you once again, Stuart!
Must be a Midwest month!
CONGRATULATIONS !!!
to Mallory Golladay and Kamgaard Kick Up Your Heels ("Skipper") going Winners Dog and Best of Winners today at the Little Fort Kennel Club of Waukegan show in metro Chicago winning his first point from the Puppy class under judge Betty-Anne Stenmark ("King's Mountain").
A happy Midwest shout out to Ron Denn, Jaime Simon, Karen Elvin and Kristin Wehking for the recent wins on their GCh. Solegia Sangrud Heaven's Light Leo, a son of Ch. Sangrud Kamgaard Kolbjorn. "Leo" garnered two nice group placements at the Lake Minnetonka Kennel Club shows this week-end; a GR2 on Saturday under Mrs. Molly Martin and a GR4 on Sunday under Ms. Shelley Hennessy along with a Reserve Best in Show Owner-Handler with Jaime on the other end of the lead.
CONGRATULATIONS!!!
Yet another somewhat personal triumph in the Agility arena for
PACH Kamgaard Katch The Wave RAE MXP4 MXPB MJP5 MJPS PAX CGCA TKN ("Rogue")
Following an injury and having to be sidelined for months, he has come through his therapy and at his first trial back Qualified in Standard on Saturday with a first place and another Q on Sunday in JWW with a third place:
Hats off to Christine Tilburg for your care and diligence!
While we love to hear of the many successes of our dogs in the conformation ring, we are equally enthusiastic over the accomplishments in other venues. Both Agility and Barn Hunt present new challenges and bring out the natural instincts of our breed.
Working hard in several disciplines is young Kamgaard Kick Up Your Heels ("Skipper") with his owner-handler Mallory Golladay. He has today earned his RATN (Novice) title in Barn Hunt at the Happy Feet K-9 Barn Hunt trial with a second place in his class under judge Donna Nisleit.
CongRATulations!!!
It's always a special time of the year traveling to Virginia for the Norwegian Elkhound Club of the Potomac specialty show, but this year the club really pulled out all the stops for their 50th anniversary celebrations with two specialty shows on Saturday and a supported entry on Sunday. It's sometimes hard to believe that more years ago than she would care to admit, Maggie judged this club's very first match show which enabled the club to become recognized... time flies!
Saturday's first specialty judged by Lisa Peterson ("Elvemel") produced exciting and consistent results.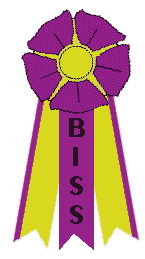 The newest member of the Specialty Best in Show Club is now RATCH Ch. Kamgaard Kodak Moment CD RA CGCA TKN ("Jack") who can add a few letters to the front of his name for a change! He was proudly owner-handled by Marlene Schlichtig. Litter sister SBIS GCh. Kamgaard Kintyre ("Marnie") was Best of Opposite Sex to Best of Breed and rounding out the family effort was Marnie's daughter, Kamgaard Kounterpoint ("Fiona") who was Winners Bitch from the Bred By Exhibitor class for her second Specialty 5 point major!!!
The second specialty on Saturday judged by Viki Lawton ("Vikiro") saw Marnie garnering another 5 Grand Champion points as Select Bitch as well as ten year old Kamgaard Kalypso King of Dandee ("Strykker") winning the Veteran Sweepstakes under Bob Lawton handled by owner Dee Roberts.
Lots of hospitality, lovely prizes, good food, raffles and a buffet dinner capped off Saturday's activities.
Sunday morning came early, but back to the show rounds for the NECPV's supported entry judged by Ms. Rita Walker ("Jantar") from Canada. We have long admired the beautiful Borzoi this lady breeds and were happy to show to her for the very first time. Again, much consistency in her placements and loved to watch her hands on dogs... they told the story!
Once again, Best of Breed went to Kodak Moment (pictured above) with litter sister Kintyre standing in the Select Bitch slot...but... inbetween them was young Kounterpoint as Best of Winners ably handled by Sue Ratz for her THIRD big 5 point major at just 16 months of age. With this win, "Fiona" became our 175th bred or owned Ch. (pictured below) and we couldn't think of a better way to end a great week-end!!!
Tusen Takk NECPV!!!
What better day than Syttende Mai (Norwegian Independence Day) for an Elkhound to earn their first title?
Young Kamgaard Kick Up Your Heels ("Skipper") has been trying his paws in Barn Hunt with owner/handler Mallory Golladay and today achieved his RATI (instinct) title as well as two legs toward his RATN (Novice) title with a 1st and 3rd place in his class at the Happy Feet K-9 Barn Hunt Trial in Illinois under judge Donna Nisleit.
Good going for 10 months of age!
Two really lovely photos received recently from across the pond; first a super natural shot of our 10 year old star, "Kobi" (SBIS American Grand/Canadian/UK Ch. Kamgaard Kut Above) taken by his co-owner/handler Stuart Horner
followed closely by the most adorable puppy shot of Kobi's young daughter "Vika" (to be named Skogly's Kamerican Vika pending approval from The Kennel Club (UK) taken by breeder/owner Annelise Haugstad
Quality begets quality!
This long overdue posting is being scribed with thanks having had a number of phone and email inquiries to ask if all was well as there had been no postings for an unusually long period. The reason for this was two-fold; firstly we experienced a very harsh winter combined with Sally's knee replacement surgery in January meant Maggie doing the bulk of the chores, thus little time for writing. A couple older dogs with some health issues caused more concern and care time to add to an already busy schedule of shoveling, snow-blowings, trips to rehab, etc. Secondly, the shows which were entered were "no shows" thanks to Mother Nature and her unrelenting shower of the white stuff. Things are finally on the upswing and spring is finally arriving... AMEN!
The flag bearer for us during this time was dear "Kobi" (SBIS American Grand/Canadian/UK Ch. Kamgaard Kut Above) in the United Kingdom winning all of his Veteran classes at the following shows:
Norwegian Elkhound Club of Great Britain Contest of Champions (Robin Searle)
Crufts (Wendy Sharman - "Naraena")
Norwegian Elkhound Club of Great Britain Championship Show (Nev Simms - "Elverdal")
Hound Association of Scotland Championship Show (Rony Doedijins from the Netherlands)
Norwegian Elkhounds Association of Scotland Open Show (Colin Ashmore) with the following critique:
"10 year old presented and shown in lovely condition, lovely shape and outline, of nice size and proportions, good breed type, wedge shaped masculine head, dark overal expressive eyes, dark ears and foreface, deep chest and well ribbed, good front and rear angulation, straight front, tight well arched toes, strong short back, level firm topline, sound true movement and good rear drive. Best Veteran Dog"
Many thanks to Stuart Horner for keeping him in excellent condition!
In late April came a happy messge from Cheryl Cramer to say that "Grey" (Ch. MACH2 Kamgaard Kovered In Grey MXC MJB2 OF T2B) had won her 18th QQ in agility toward her MACH3 title... two more to go! AMAZING!!!
The first Saturday in May finally found us at a show at the favorite Bucks County Kennel Club in the rain! A supported entry of the Garden State Norwegian Elkhound Club, judge Eddie Dziuk found his Reserve Winners Bitch in a major entry in Kamgaard Kounterpoint ("Fiona") and her dam SBIS GCh. Kamgaard Kintyre ("Marnie") going Best of Opposite Sex to Best of Breed for four more Grand Champion points toward her Bronze level.
Wishing all of our Elkhound friends around the world a very healthy and happy New Year!